Eco Destinations
On top of the National Parks, Uganda boasts of a good number of designated areas where ecotourism activities have boosted the communities around those sites. Basing on the ecotourism principles and practices, Uganda Eco Tours feels the sites below qualify to be regarded as eco-destinations.
All the destinations below contain:
natural features that are within a protected landscape
have a low density development, and are registering steady small scale community businesses
these destinations have developed plenty of designated out-door recreation zones including trails, bike paths, boardwalks that are shared by both the locals and the visitors
all tourists infrastructure like- lodges, hotels and restaurants around these sites have basic tourists' facilities like toilets and shower rooms restaurants and bars
they serve visitors and local people alike, buy local produce and employ locals - creating an environment that facilitates friendly interaction between the local hosts and the visitors
Lastly, locals show case their cultures in form of festivals, events and music dance and drama that portrays their sense of pride in local cultural heritage and their community natural environment.
---
Mabira Forest Reserve
Mabira Central Forest Reserve is located on the main Kampala- Jinja Road. It is 54km from the city centre of Kampala and 26km from Jinja town. The road to this beautiful forest winds its way through scenic areas of sugar cane and tea plantations.
Mabira Central Forest reserve is one of Uganda's largest surviving natural forest covering an area of 306 sq km. The forest is a natural Habitat of 312 species of trees including the endangered Cordia Milllenii, Mililia Exclesa, the Warbhugia Ugandenesis which has medicinal properties and its known to cure over forty ailments; and the vulnerable prunus Africana. Mabira is also home of 315 species of Bird such as the Nahan's Francolin, cassin Hawk Eagle, the forest wood hoope, the purple throated cuckoo, the tit hylia, the red headed blue bill, the black bellied seed cracker, the shinning blue king fisher and many more. Some of these species can only be found in Mabira forest and nowhere else.
An excellent Trail System allows access to both undisturbed primary and good secondary forest. One of Mabira's strengths lies in the large number of birds which may be seen from the visitor's centre. Flowering trees in the clearing attract a variety of sunbirds such as green, Little Olive, Blue throated, brown, Green throated, olive bellied and superb sunbirds.
Other unique features to be explored in the forest Reserve include 218 butterfly species, 97 moths species,23 small mammal species especially primate species of Monkey clan and the spectacular Griffin falls.
---
Ssezibwa falls
The falls are located along River Ssezibwa that starts from the wetlands between Lake Victoria and Lake Kyoga, west of the Victoria Nile and flows in a general northerly direction to empty into Lake Kyoga. Sezibwa falls is a Buganda Heritage site, with an out span of sharp edged rocks and a magnificent sound of soothing waters flowing down the steep ridged stones 7m high. The dark waters rise up to 90 feet during the rainy season, with fascinating sounds from the pouring waters, holding the secret not known to many, unique and rich traditions, acknowledged only by those who love culture and serene. It traditionally derived its name from the vernacular word "sezibibwa kkubo" literary meaning "no obstacle can stop me from moving on‖. While at the site, one has an opportunity to explore the cowry shrine, enjoy the harmony of bird songs above the trees, do rock climbing as well as enjoying the captivating scenery of the place. Monkeys like black and white colobus, red-tailed and vervet, are always sighted in the trees at the edge of the forest.
Activities:Camping, Birding, forest walks, biking, village walks and cultural performance.
---
The Ssesse Islands
The Ssesse Islands are a group of 84 islands famous for their unexplored forests some of which are completely uninhabited. They are a natural habitat for rare and endemic birds and butterflies. Primate species especially the monkeys abound. This rich and virgin eco system serenely blends into the aquatic expanse of Lake Victoria, Africa's largest lake, making these forest reserves a must visit.
Lutoboka, Kampala and Bunjazi central forest reserves.
These forests, found on the legendary Ssesse islands, are described as medium altitude moist forests. They form a belt along the lake and the lower ridges with a gentle slope from the lake shore to the centre.
Activities in the forest reserve include Forest walks, bird watching, primate identification and butterfly identification. In addition, visitors can also enjoy sailing, boating, fishing and sun bathing along the lake shore.
Accessibility to the Islands is by Ship from Nakiwogo Landing site near Entebbe at exactly 14 hours daily. The ship starts its return journey from Lutoboka landing site at exactly 8:00am.
Alternatively, one may approach the islands by ferry from Bukakata/ Kachanga landing site near Masaka. The Ferry docks at Luku landing site near Kalangala, four times a day starting at 8:00am
---
Kashoya - Kitomi Central Forest Reserve
Located 35 km from Bushenyi, Kasyoha- Kitomi Central forest Reserve is 433sq.Kiliometers. The main attractions in the reserve include primates such as chimpanzees, blue monkeys, Red tailed monkeys, black and white colobus monkeys, vervet monkeys and Baboons. The reserve also boasts of spectacular crater lakes such as the twin lakes of Kamweru and Kyema as well as transparent Lake Kamunzuku. Being adjacent to Queen Elizabeth National Park, the reserve hosts a number of small mammals like duikers, antelopes, bush pigs and the Uganda Kob.
Migratory Elephants can occasionally be seen. Activities in the reserve include waterfalls walks, canoeing, bird watching, chimp tracking, Crater Lake exploration, sightseeing, conservation education, camping and community walks.
At lake Kamweru, Uganda Eco Tours in partnership with the local community has facilitated the development of and ecotourism site that provides interpretive programs to educate its employees, the local population and tourists about the surrounding and cultural environment in the area.
---
Budongo Central Forest Reserve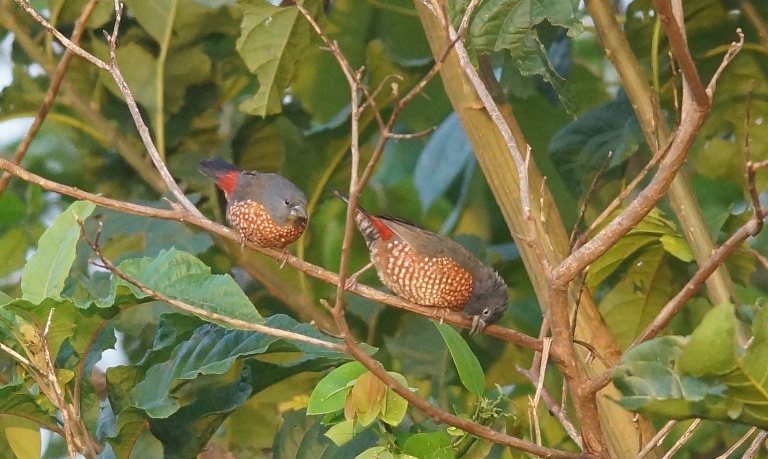 Budongo Central Forest Reserve is the largest surviving Natural forest in Uganda with a total surface area of 825sq. kilometers. This is a true forest, very little illegal activity and encroachment has ensured that the forest remains as natural as it can be.
Visitors seeking the serenity and calmness are being next to nature should opt for Budongo. It's divided into three zones; i.e., the Nature Reserve which is the oldest in the country, while its buffer zone allows Ecotourism and research to prosper, and its production zone caters for commercial activities.
Kanio-Pabidi sector of Budongo
Kaniyo Pabidi is situated in the North Eastern part of Budongo Forest Reserve located approximately 220km. From Kampala via Masindi which is 29km away. The site is along the secondary road that connects Masindi with Paraa. It is roughly 5 km. From the Murchison Park Boundary and entry gate.
It is a natural habitat of about 120chimpanzees. There is a group of 30 chimpanzees that has been habituated for tourism purposes. There are also other primate species such as the black and white colobus monkey, the Red tailed monkey, Blue Monkey, Vervet monkey and baboons. Part of kaniyo pabidi is contagious with Murchison falls National parks and Bugungu wildlife reserve which are managed by Uganda Wild life Authority. Hence, some savannah grassland species can be sighted in Kaniyo pabidi. These include Bush bucks, Red and blue Duiker, bush pigs, warthogs, lions, water bucks and buffaloes. There is prolific birdlife especially the chocolate -backed king fisher and the puvel'ss illadosis. This area is home of a variety of tree species are known to possess medicinal qualities. Butterflies, moths, and Tropical flowers are abundant.
Forest trails at this site are well developed and well maintained for tourist purposes. Tourist activities include chimp tracking, bird watching, forest walks, conservation education, chimpanzee habituation and camping.
Busingiro Sector
Busingiro Eco Tourism site is located in the South Western part of Budongo forest Reserve, located to the west of Masindi. It's approximately 47 km. from Masindi Town via Kinyara and Nyabyebya. Masindi its self is approximately 200km from Kampala on a good tarmac Road. Busingiro is on the earth Road that connects Masindi with Paraa via Bulisa on the shore of Lake Albert. Like Kaniyo- Pabidi this area is a habitat of several primate species including chimpanzees, monkeys and baboons. However, the chimpanzees in Busingiro are not yet habituated for visitor tracking. Mahogany, iron wood, fig trees stranglers and a host of medicinal trees form the bulk of floral species in this seemingly untouched natural forest. Birds, butterflies, reptiles, small mammals and other Micro Organism form the Eco- system that that makes this particular site enviable. Visitor should not miss the proverbial Royal Mile. This is one of the highlights of Busingiro. The Royal Mile is a stretch of one mile with a collection of all the tree species found in Budongo Forest Reserve. King Kabalega, the former king of Bunyoro used to frequent this segment for relaxation with his queen. The segment derives its name from these Royal visits. The segment is magnificent by the National Forestry Authority for historical, aesthetic and recreational reasons. Activities in Busingiro include forest walks, bird watching, primate identification, conservation education, Research, and butterfly identification among others. There is a primate research station on the site of old sawmill at Sonso. The forest trails at this site are well developed and well maintained for tourist purposes.
---
Mpanga Central Forest Reserve
Located 37km from the city centre of Kampala, the forest Reserve is easily accessible through the main Kampala -Masaka highway. The Eco-Tourism site is approximately 1 km from the road head using a well-surfaced dirt roadMpanga Central Forest Reserve is a natural Forest with unique Tree species and other flora. Among the outstanding tree species are the celtis family species with large buttresses, the Ficus family and Mahogany.
The forest also boasts of number primates especially the red tailed monkeys, Nocturnal visits can be arranged to see the bush babies.
There is an array of birdlife including the Russ' Turaco, Weaver- birds, the grey parrot, Owls, Hornbills and Cuckoos.
The forest is also home to variety of butterflies and moths.
The main activities in the forest include forest walks and forest exploration, bird watching and identification, primate watching and butterfly identification.
The forest trails are well developed into four main routings namely; the baseline trails, the hornbill trail, The Butterfly Trail, and the family trail each with unique features and experiences.
---
Bigodi wetland
The wetland is a stretch of about 8 km long and 1/3 km wide, attached to Kibale forest National Park at both ends. It acts as a corridor for animals from the southern to the northern parts of the Park. A large trench that runs through the middle of the wetland is an old hippopotamus trail from the 1960s. Because of the wetland's rich biodiversity, it was resolved that tourism could bring benefits to the community and hence encourage conservation of this important natural resource.
The wetland sanctuary is under the management of an organized community under the famous Kibale Association for Rural and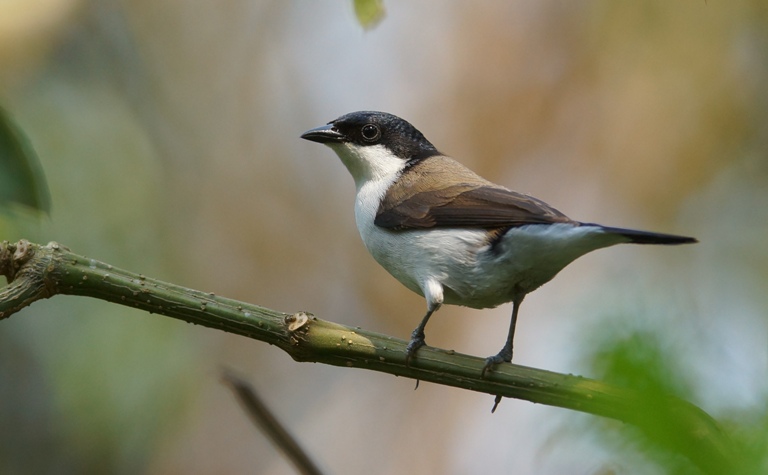 Environmental Development (KAFRED). Since 1992, the people of Bigodi have worked together as a community to facilitate the development of ecotourism activities in the wetland. The guides are from the local population and a significant percentage of the income from this initiative goes to fund local schools, marginalized women groups and several other welfare and social developments in the area.
Activities include: eco camping (eco-homes have also been established), nature walks, community /village walks, birding, primate watch. There are several handcrafts made by the local people at the visitor information centre.
---
Ngamba Island Chimpanzee Sanctuary
Established in 1998, Ngamba Island Chimpanzee Sanctuary provides a safe home for orphaned chimpanzees that have been rescued by the Uganda Wildlife Authority and other concerned authorities from poachers and/or traders, with no chance of survival back to the wild. Located 23 km offshore from Entebbe, the chimpanzees are housed on 40 ha island of rain forest with rich biodiversity and provides a variety of wild food for them. The chimps have personalized this natural habitat and are free to roam around.
---
Entebbe Botanical Gardens (EBG)
Situated on the northern shores of Lake Victoria (adjacent to UWEC), virtually on the Equator, EBG is a beautiful place with colourful butterflies, birds and primates in an area of 40.7ha.The gardens house a collection of species of plants of the tropical, sub-tropical and temperate zones, besides several shrubs and other plants which regenerated naturally over the years. The habitat has attracted a diverse array of birds – 206 species (both forest and shorebirds) and monkeys; Black and White Colobus and Vervet Monkeys.
This is an area where one can have a relaxed nature walk while enjoying the colourful birds, plants, butterflies and monkeys.
---
Uganda Wildlife Education Center (UWEC)
Opened as a zoo in 1952 by the Colonial Government in Uganda as a reception centre for wild animals that were found as casualties, a number of indigenous and non-indigenous species, including bears and tigers, were kept as an attraction during that time. In 1994, Uganda Wildlife Education Conservation Trust was founded and developed the zoo primarily for Conservation Education purposes.
The center is located in Entebbe at the edge of Lake Victoria and provides a wide collection of wild animals in their rich and natural habitats. There is a wide range of exhibits of the wildlife with mimicked ecosystems in Uganda. Among those are the Wetland ecosystem comprising of the wetland Aviary which is a home of the giant Shoebill Stork, the world's wonder! Plus other species that are associated with the typical vegetation; The Herbarium, consisting of over 250 herbal plant species that are commonly found in Uganda homes as well as information on the type of diseases they cure; the savannah ecosystem exhibiting Uganda's savannah national parks and their respective wildlife. The wildlife ranges from fauna like birds, reptiles, antelopes, carnivores, primates, to flora like trees, shrubs etc. There are several kids' recreation facilities in the green natural compound, beach area, well developed walk ways that make the site very attractive for enjoyment, education, wildlife viewing and photography.