African Rural Community Adventure Holiday

Live and dine with the local people; experience their lifestyle and customs; and be part of the community.
Come and be a witness!
Day-to-day life of a Ugandan villager: We tailor such packages for only those in search of "unusual". It is an ideal trip for travel writers and film makers exposing them to unimaginable but true experiences. The trip takes the traveler to out-of-comfort zone, to a part of this world where the word "luxury" is perceived differently. The adventurer enjoys the benefit of being a participant than being told.
Some of the activities include among others;   
Village Walks: Involves walking through engrossing local farms and gardens and strolling quiet village streets; studying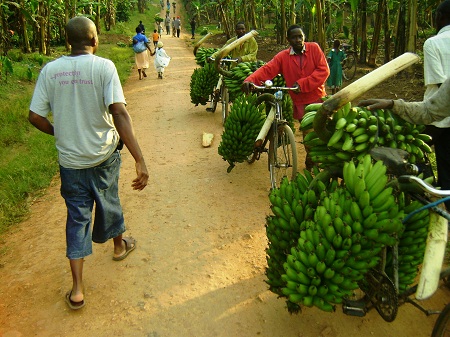 plants in the gardens and farms including those that are used as traditional herbal medicine.
Visiting local brewer communities; take part in the local gin processing activities and learn the entire process – you can keep a sample to take back home! Compliment that by visiting a local bar selling only local brew.

Exploring traditional fishing villages; learn the traditional fishing methods by engaging in the fishing activities, interact with the fishermen and learn about their way of survival; and above all, observe water birds & wildlife at fishing site or lake, on the treetops, etc

Taking part in community gatherings like the village meetings; watch local football teams competitions, cultural dance and performances. Attend a traditional customary marriage ceremony and be part of the celebrations!

Visiting a local school and holding a responsibility as the 'teacher on duty'; conduct language class lessons etc. Such visits are pre-arranged to specially target voluntourists.

On a local market day, join dozens of farmers in colorful attire, selling fresh, locally grown produce, and meet with master weavers to learn about their craft.  
Taking part in daily household chores; Stay at one of the local eco-homes - hosted in a family of one of the local homesteads. Household cores include going to the nearby stream to fetch water, go firewood collection in the nearby bush, and help to process food locally, like; processing millet flour on a grinding stone; enjoy mouth-watering local cuisine. etc
Do you like this? Contact us for a detailed packa

ge