Mini Uganda Wildlife Tour

Only six days of game viewing, Launch Cruise and Gorilla tracking. This tour covers the south-western part of Uganda - L. Mburo, Queen Elizabeth and Bwindi Impenetrable Forest National Parks.
Overview
Despite the apprehensiveness by many people about Uganda's historic horror of Idi Amin's reign, whoever visits this small African country is engulfed in the awe inspiring and unrivaled landscapes, and feels the powerful and singular magic of encountering majestic animals in their own territory plus the congenial demeanor of the people of Uganda. The unsurpassed of all the spontaneous adventures is tracking the mountain gorillas. These are the rarest of the great apes, visible only in their natural habitat - unimaginably dense rain forest clinging to harsh mountain slopes in one of the most inaccessible pockets of Africa – The UNESCO world heritage site, Bwindi Impenetrable National Park. Tracking the mountain gorillas in Uganda makes one discover why Winston Churchill exuberantly declared in 1907 that "Uganda is a Fairy Tale".
The Journey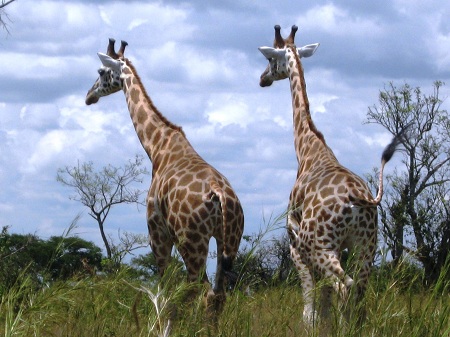 Travelling west across the Uganda's midsection, is a leisurely journey that gives one plenty of time to get over jet lag and determine that 100 years later, Uganda remains, in Churchill's words, ''end to end, one beautiful garden'' . The journey strolls through groves of papyrus reed beds, acres of isolated woodland pockets and remnants of tropical forests, endless banana trees, etc.
The first wildlife encounter begins with a ride through the Lake Mburo National Park, an archetypal introduction to the African savanna denizens - with zebra, impala, Topi, Eland, elephant, buffalo waterbuck, bush buck etc. From here we move further south, you will drive past rich tea plantations and a roadside troop of baboons; a magical charm journey that leads you to "Africa's sensational biosphere reserve" – Queen Elizabeth Conservation Area. A launch cruise along the fêted Kazinga Channel in Queen Elizabeth National Park takes you through yawning and snorting hippos, crocodiles, giant forest hogs and thousands of waterfowls.
After having a real feel of biodiversity in this park, we shall drive to Buhoma through the Ishasha sector of Queen Elizabeth National Park. Lions sleeping in giant, gnarled trees are sometimes seen. This teeth-jarring journey ultimately ends in the lush hunk of greenery in Uganda's southwestern corner, aptly named Bwindi Impenetrable National Park. Gorilla tracking will be the main activity here.
This mini tour is guided by a professional driver guide in a strong 4×4 van and the accommodations are among the best and most comfortable in the region.