Rwenzori Mountains National Park
Rwenzori Mountains National Park lies a few kilometers north of the equator rising over 4000m above the floor of the Albertine Rift Valley. It lies along Uganda's border with the Democratic Republic of the Congo (DRC) and borders the DRC's Virunga National Park, a UNESCO World Heritage Site. The park trailhead at Nyakalengija can be accessed from Kampala from the north via Fort portal 375km or south passing through Mbarara and Queen Elizabeth National Park 450km. Nyakalengija is 17km off Kasese – Fort Portal road and 25km north of Kasese town. Charter flights can be arranged from Kampala – Kajjansi or Entebbe.
Rwenzori Mountains National Park is a UNESCO World Heritage Site. The park is almost 1,000 km2 in size, 70% of which exceeds an altitude of 2,500 m (8,202 ft). The Rwenzori Mountains are higher than the Alps and are ice-capped. Mount Stanley is located in the park. Margherita Peak, one of Mount Stanley's twin summits, is Africa's third highest peak with a height of 5,109 m (16,762 ft). Africa's fourth and fifth highest peaks (Mount Speke and Mount Baker) are also located in the park. The park has glaciers, snowfields, waterfalls, and lakes. The park is one of Africa's most beautiful mountain areas, and is known for its beautiful plant life.
The 120km Rwenzori chain is regarded to be the legendary snow-capped Mountains of the Moon, described by Ptolemy in AD150. Reaching an elevation of 5,109m, it is also Africa's tallest mountain range, exceeded in altitude only by the free-standing Mount Kenya and Kilimanjaro.
The distinctive glacial peaks are visible for miles around, but the slopes above 1,600m are the preserve of hikers, who rate the Rwenzoris to be the most challenging of all African mountains.
A variety of large mammals inhabits the lower slopes, but the Rwenzoris are notable more for their majestic scenery and varied vegetation. The trails lead through rainforest rattling with monkeys and birds, and then tall bamboo forest, before emerging on the high-altitude moorland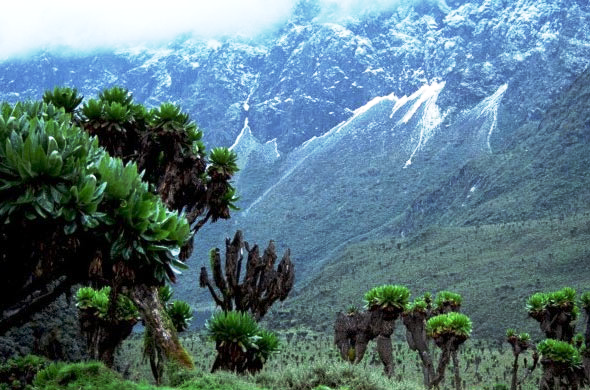 zone, a landscape of bizarre giant lobelias, towered over by black rock and white snow, looking for the entire world like the set of a science fiction film.
The park has many species that are endemic to the Albertine Rift system, and there are several endangered species in the park. The park is noted for its botany, which has been described as some of the most beautiful in the world. The Rwenzori is a home to 241 bird species of which 19 are endemic to the mountain. Several birds are limited to just a few forests along the Albertine Rift, notably the Rwenzori Turaco. In the alpine zone look for the malachite sunbird.
There over 60 species of butterfly and four primate species. Some of the animal species include the forest elephant, chimpanzee, hyrax, black-and-white colobus, L'Hoest's monkeys, duiker etc